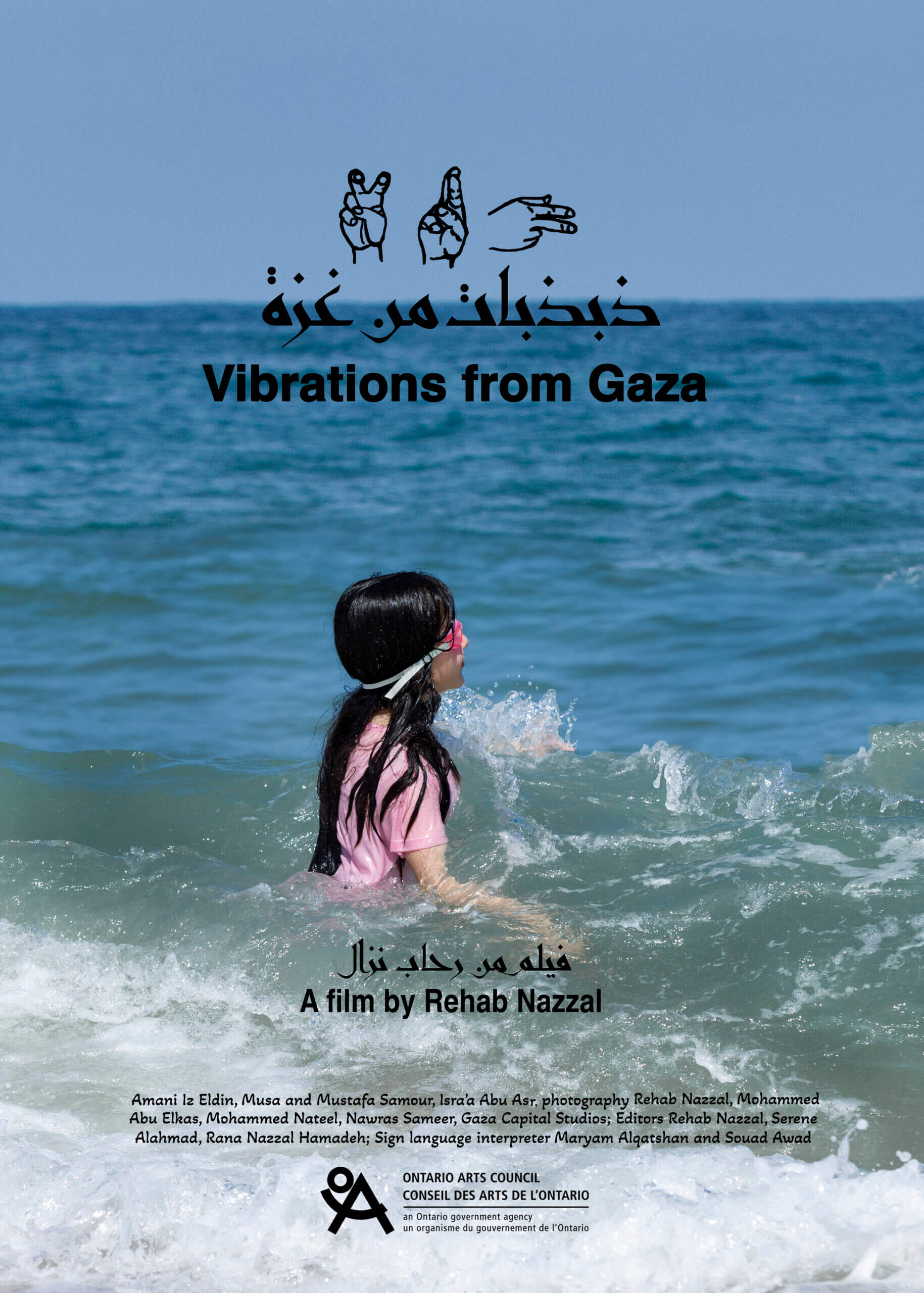 Young Voices
The short film program "Young Voices" explores the worlds of Palestinian children and youth through an emphasis on different soundscapes and voices. From bombardments felt through vibrations in Gaza to video game sounds that simulate lived reality under colonial rule, the sonic components of cinema intimately attune listeners to the violence of Zionist settler colonialism.
Vibrations from Gaza
Rehab Nassal | 2023 | Palestine, Canada | 16′ | Arabic, Sign Language with English subtitles | Documentary
A glimpse into the experiences of Deaf children in the colonized and confined coastal territory of Gaza, Palestine. Born and raised under siege and frequent onslaughts these children, including Amani, Musa, Israa, and others, provide vivid accounts of their encounter of bombardment and the constant presence of drones in their sky. The children describe their perceptions of missile strikes through sensing vibrations in the air, trembling of the ground, and the resonance of collapsing buildings.
Far Away From Home
Qais Al-Zubaidi | 1969 | Syrian Arab Republic | 11′ | Arabic with English subtitles | Documentary
A film documenting Al-Sabineh camp for Palestinian refugees in Syria, with an unprecedented experience at the time, as he took the children after filming to show them the footage he filmed of them, the camp and its people, and recorded their reactions, laughter and speech, and added them to the film.
The Game
Shirak | 1973 | Palestine, Irak | 16′ | No dialogue with English subtitles | Experimental
"The game they play is the game of war itself", writes filmmaker and scholar Qais Zubeidi. The games of Palestinian children increasingly merge with warfare. Remnants of combat, such as bullets and tanks, are the toys of a group of young boys. When one of them finds a casing of a bombshell, their band disperses into a haunting game of hide and seek.
Like An Event In A Dream Dreamt By Another: A Rehearsal
Firas Shehade | 2023 | Palestine | 14'20" | English with English subtitles | Video Essay
In RPGs, real life can be rehearsed in a superstitious manner, with supernatural beings and worlds. Since the emergence of computer processing power and video games, the third world was a source for worldbuilding and space to apply game operations. Those games are not isolated from the socio-cultural and political environment that they are developed in. Third-world gamers, developers, streamers, and hackers managed to modify those games and apply their own hyperreality in order to rehearse their world. This project explores how Palestinian players, GTA mods, and servers are simulating real life under colonial rule. Like An Event In A Dream Dreamt By Another – Rehearsal examines Los Santos as a corollary to Palestine.
Co-presented with Regards Palestiniens, in collaboration with The Raah Lab at Concordia University, as part of Generations of Nakba. The Raah Lab aims to examine the intersection of migratory processes and media practices via both theoretical and practice-based research. It adopts a community-driven model to bring together scholars, activists and community partners in order to investigate the questions of immigration, hospitality, marginalization and their mediatized forms.
Sunday, Dec 3
18:00

- EST

SOLD OUT

---
FST - French subtitles
EST - English subtitles