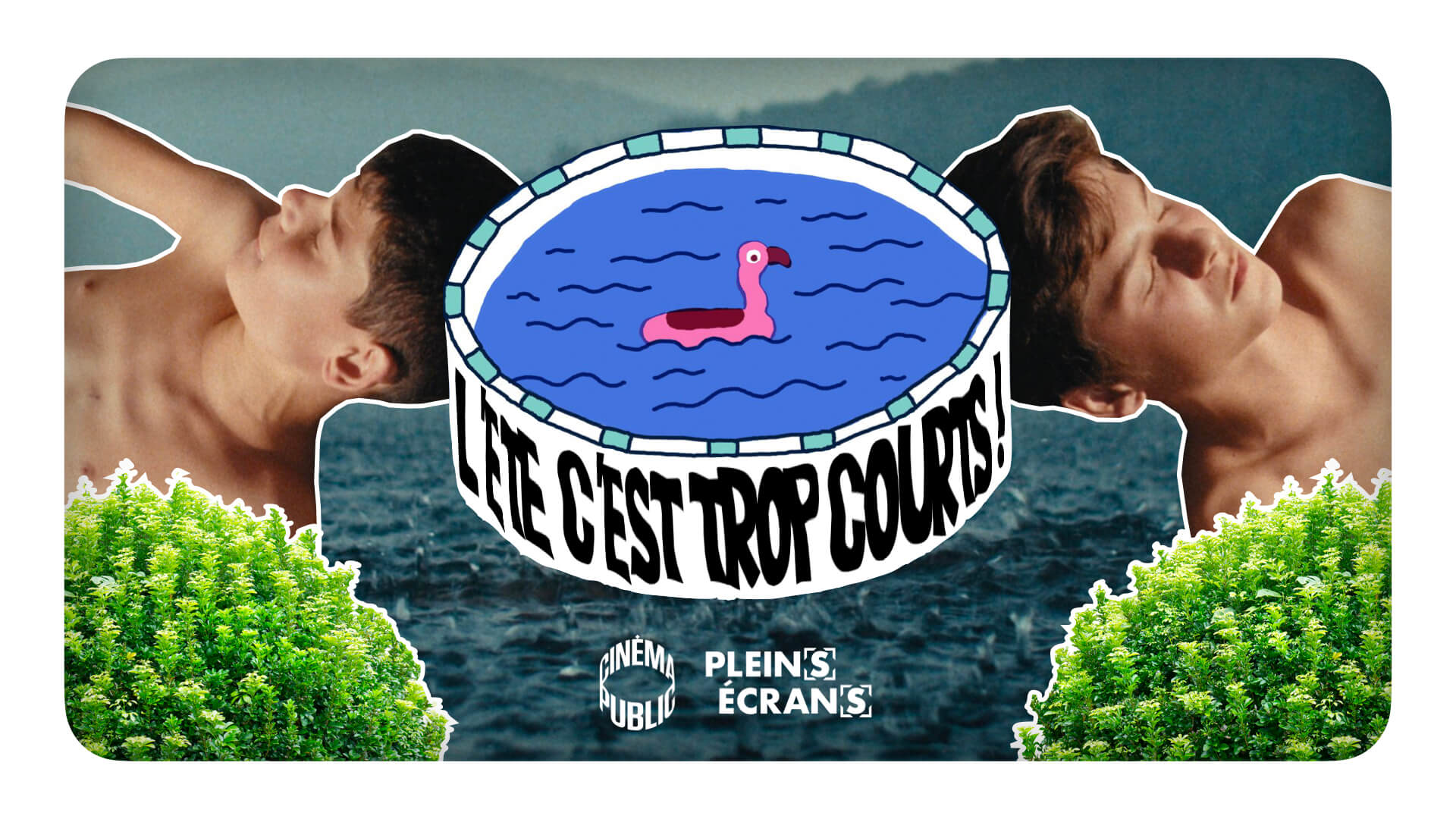 Free program
---
L'été c'est trop courts
It's sunny, it's hot, get out your shorts! Come and cool off with the finest short films presented by Plein(s) Écran(s) in collaboration with Cinéma Public. We present a summer program worthy of Yves Court-beil's Wheel of Fortune. Under the stars and in front of our screen, we offer you a magnificent line-up of films:
Oasis de Justine Martin
Québec | 2022 | French with English subtitles | 14′ 10
At the dawn of adolescence, twins Raphaël and Rémi find their sibling relationship crumbling as one of them, increasingly disabled, remains trapped in childhood. But during one last summer in the heart of nature, time seems to stand still.
Fragments de Aline Sitoé N'Diaye
Québec | 2021 | French and Wolof with English subtitles | 17′ 48
With her vivid imagination, young Mery Rose transports us into her world, her discussions with her grandfather and her learning about life.
Piscine Pro de Alec Pronovost
Québec | 2022 | French with English subtitles | 8′
Fresh from his bachelor's degree in history and civilization, Charles-Olivier struggles to find a job in his field, and has to settle for a clerical position in a pool store. With his head down, he navigates his new profession as best he can.
Va jouer dehors de Adib Alkhalidey
Québec | 2017 | French with English subtitles | 17′ 32
One morning during the school vacations, Abel decides to take matters into his own hands to solve his parents' financial problems. Accompanied by his best friend Edwin, he wanders the streets of his neighbourhood in search of loot and succumbs to the temptation of a life of crime. Through their wicked odyssey, the two kids will have to choose the kind of life they want to lead.
Birdie de Alexandre Lefebvre
Québec | 2020 | French with French subtitles | 11'25
During his round of golf, Marcel finally mustered up the courage to invite Joanne, the canteen-maid on the 9th hole, to share a romantic evening. Little did he know that this encounter would create such a shockwave. 18 holes. 693 kilometers. 2 golf bags. 1 newfound love.
Free entrance. First come, first served. Please let us know of your interest by replying to the Facebook event. In the event of inclement weather, the screening may be postponed or canceled. Please consult our website before coming. Bring your own wine.
FST - French subtitles
EST - English subtitles