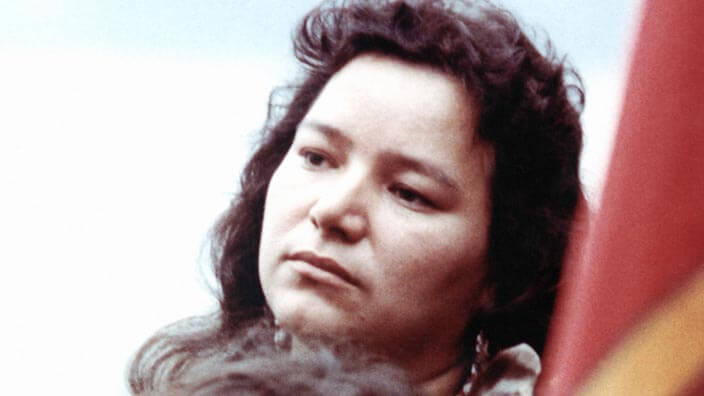 Événement
---
Rétrospective Matrimoine – Alanis Obomsawin
For its first Retrospective edition, the Fondation Matrimoine has joined forces with the Cinéma Public to present a retrospective of short films directed by Alanis Obomsawin for the National Film Board (NFB) over a period of 50 years of creation.
Alanis Obomsawin is an award-winning Wabanaki filmmaker, writer, singer and activist who has made powerful and relevant documentaries. This two-part retrospective is an opportunity to (re)discover how her work as a committed filmmaker has had and continues to have an impact on the way people, both Aboriginal and non-Aboriginal, understand themselves.
This retrospective of selected short films aims to provide a comprehensive overview of the filmmaker's work and is presented in two consecutive screenings entitled respectively Un espace pour s'exprimer and Un espace pour militer. Each screening is followed by a question period moderated by Anna Lupien of Réalisatrices Équitables in presence of the filmmaker.
Part 1. Un espace pour s'exprimer
Thursday October 13, 6 pm | 75 minutes
This first series of short films begins with Christmas at Moose Factory, the first film directed by Alanis Obomsawin at the NFB in 1971.  In it, we discover an attentive, creative and committed filmmaker who gives a space of expression to Aboriginal peoples.  Subsequently, the filmmaker made a series of documentaries devoted to the ancestral know-how of the people living in the Atikamekw community of Manawan as well as the Líl̓'wate nation. This first part ends with the powerful Je m'appelle Kahentiiosta, a vibrant testimony of a Mohawk woman from Kahnawake arrested during the Oka events of 1990 and detained longer than other women because the Attorney General would not accept her Aboriginal name at her court appearance. This series allows us to observe the evolution of the filmmaker's techniques, approach and tone.
Part 2. Un espace pour militer
Thursday October 13, 8:15 pm | 68 minutes
This second series highlights the versatility of Alanis Obomsawin's talent as she continues her celebration of Aboriginal cultures and her fight against injustice.  From the short self-fiction film When All Leaves Fall to the activist documentary The People of the Kattawapiskak River – 6 Months Later, about the impacts of the trusteeship of the Attawapiskat First Nation, Obomsawin's voice is strong, vibrant, creative and engaging.  The retrospective concludes with two recent works by the filmmaker made in 2021 and provides an updated vision of the history, challenges and cultural richness of Aboriginal peoples.
FST - French subtitles
EST - English subtitles